Belgian & French Ales Homebrew Competition
Bière de Rock was this past weekend. It's the first BJCP/AHA sanctioned competition of the year in our region. As always, the organizers did a great job putting together this event. The Rock Hoppers Brew Club were excellent hosts. This Belgian & French Ale competition continues to be a great Colorado tradition.
I submitted five entries this year: a Bière de Garde solo entry and four collaboration brews. I'll identify collaborators by first name only, but you know who you are:
Witbier (Joshua)
Saison (Katie)
Tripel with Orange Blossom Honey, Ginger & Coconut (Kyle) Red Wine Barrel-Aged Belgian Dubbel (Elliott, Jason, John, Joshua, Ken, Kyle, Todd, Shane)
I'm very pleased to say the Dubbel placed 3rd for Wood Aged beer. The Bière de Garde scored a 41 and was part of mini BOS (in contention) but didn't medal.
Without getting into a comparative dissertation of Brewing for Competition v Brewing for the Joy of Brewing, I'll say all these entries were brewed relatively to the BJCP style declared with exception of the Tripel which was entered into SHV. We made solid beers and every collaboration brew day was a lot of fun.
Up until the days leading to Bière de Rock I hadn't recently brewed many Belgian or French ales other than the Bière de Garde, so the recipes are very much works in progress.  In the meantime, here's some details on the Red Wine Barrel Aged Dubbel:
5 gallon batch:
11 LBS Belgian Pilsner Malt
2.5 LBS Munich Type 1
1 LBS Special B
6 OZ Acid Malt
2 LBS Amber Candi Syrup (1 x D-45 + 1 x D-90 if you don't make it yourself) last 10 of boil
Mash 75 minutes @ 150 degrees F, 90 minute boil
2 oz Saaz @ 60 minutes
1 oz Saaz @ 20 minutes
WLP500 Trappist Ale (2L starter)
OG: 1.084
FG: 1.012
The barrel team brewed five or ten gallon batches of this recipe, fermented separately, then brought purged kegs with their contribution to the red wine barrel location about one month later.  Unfortunately, the barrel was a little too dried out even after some re-swelling attempts, so after a major cleanup I scrambled and re-brewed a bunch of beer to make sure we could fill a new barrel.  Thankfully, after six months in the barrel the red wine and subtle oak notes made the resulting dubbel even more complex and tasty than the base beer had ever been.
The picture at the top of the blog is of the dubbel.
The witbier was good but needed a little more carbonation: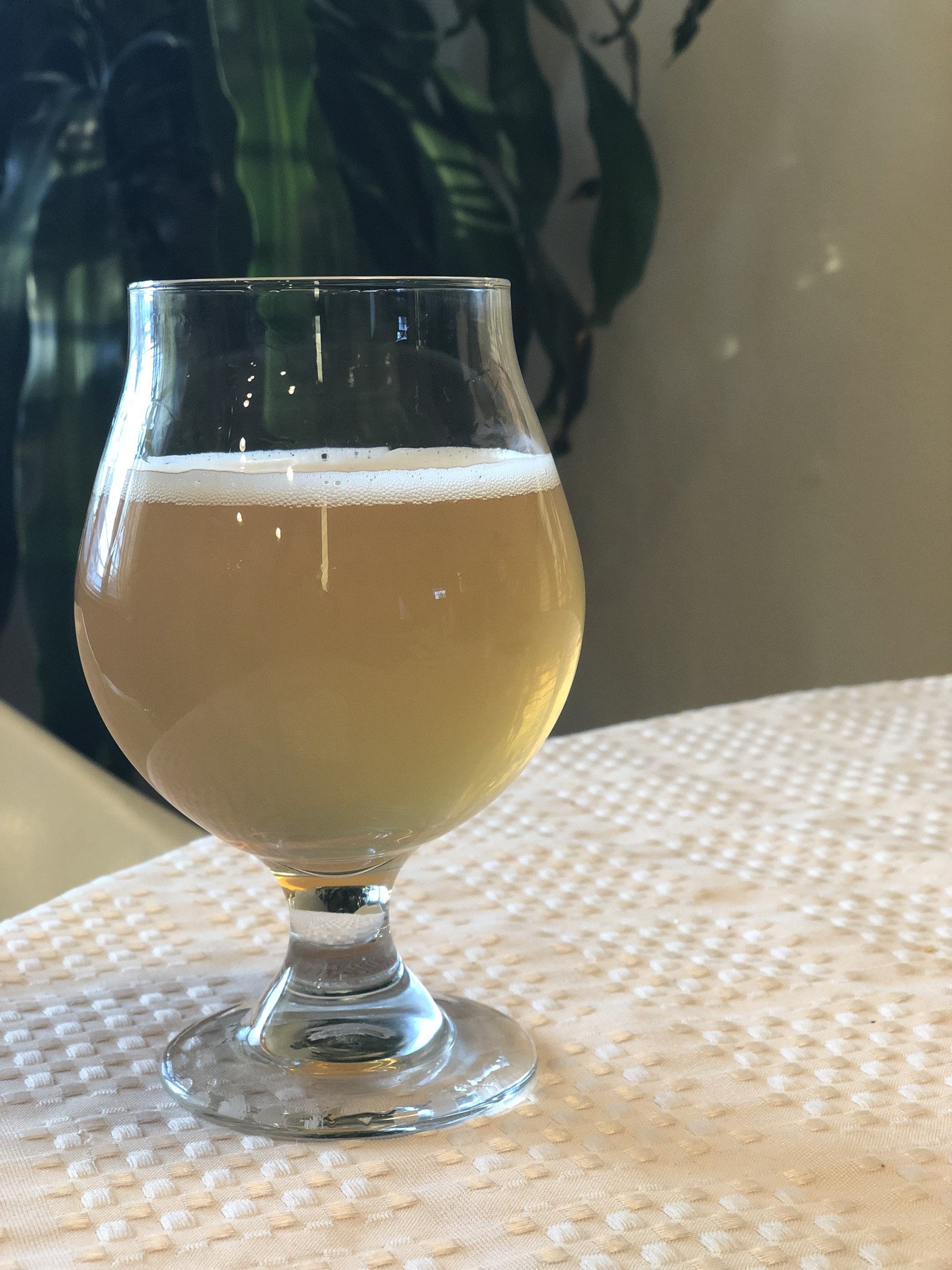 In other news, it has been a really long time since I posted anything. Going forward I will post brewing and beer-related projects.